During a presentation at 3Shape's Inaugural Community Symposium 2019, Lyndon Cooper, DDS, PhD, explained the positive impact of digital technology in the future of dentistry. The following is excerpted from his lecture in which he focused on four main benefits of digital technology:
Digital technology enhances dental care

Like the medical community, the dental profession must focus on the Triple Aim approach to health care: the simultaneous pursuit of improving the patient experience of care and the health of populations while reducing the per capita cost of care. Digital technology will make these goals more attainable.

Today, a dental laboratory can easily provide the bespoke (high-end) practice with alternative diagnostic waxups that permit the patient to choose his preferred design; this will only become more commonplace in the future.

As intraoral scanning replaces impressions for diagnostic and therapeutic techniques, the patient experience will be enhanced; for instance, the anxiety associated with conventional impressions will essentially disappear. No longer will the first minutes of a dental visit be the insertion of cold steel instruments into the mouth; instead, the dentist will examine the patient via a 3D view of his mouth on a computer screen.

In addition, frustration associated with gathering and transferring medical records, drug lists and communications between dentists will be erased by the continual integration of safe, HIPAA-compliant medical, dental and technical records.


It improves decision making by reducing autonomy

Clinical decisions are often made in isolation. Dentists, labs and patients often don't collaborate until the try-in or delivery visit and that's all too late. Digital technologies enable data and 3D images to be easily and thus equally shared among the team members. There are also more players involved in the workflow, such as one person to interpret CT scans, another to create treatment plans and others who offer design, printing and milling services.

Collaborative activities on behalf of the patient will be further influenced by the mining of data. When digital technology is used to create prostheses, the data from hundreds or thousands of previous experiences can be used to inform us about the next prosthesis. This process is the basis of machine learning and artificial intelligence (AI). This will be our future. What it means going forward is that large datasets will more correctly predict the design of a prosthesis and will inform the clinician of the "best" design. This will have an impact on the design of crowns, implant abutments and dentures and will even impact automatic evaluation of bitewing X-rays and the more complex diagnostics involved in reading CBCTs or the process of cephalometry in orthodontics.

Better diagnosis through an automated process has the potential to improve patient experiences, reduce cost and improve health by increasing the accuracy of diagnosis. We can be more efficient and more effective.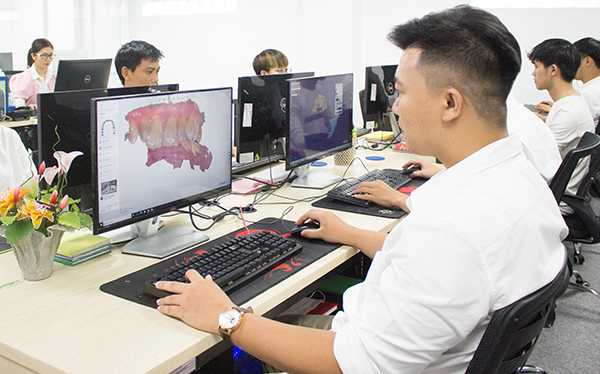 Digital technology changes the process, simplifying clinical efforts
Because of the efficiencies of digital technology, dentists can adapt a minimalist philosophy to treatment planning and fewer fabrication steps are often required to achieve a better prosthetic result. For example, fabricating a denture digitally reduces the process from five or six visits to a two-visit experience and, with future manufacturing development, this process may be achieved in just hours. This reduction in patients' therapeutic exposure is especially valuable to our older and more frail patients. Further, it reduces costs and may benefit those in greatest need.
Digital dentistry enforces accuracy of communication. For instance, an incomplete prescription cannot be submitted digitally; a digital shade can be spectrophotometrically translated; and a patient record will one day be linked to biometric authentication for added security.
Augmented Reality (AR) will play a vital role in treatment planning and communication with the patient. In 2017, Ivoclar Vivadent introduced AR for dentistry via its partnership with Kapanu. Now available as IvoSmile as a smartphone app, the Kapanu technology superimposes a 4D rendering of proposed restorations on a video of the actual patient; this ability to show a patient virtual mockup options will be a game changer in terms of driving patient acceptance.
Today, we have access to tools, such as TeamViewer, that enable team members to discuss a case in real time and facilitate better overall communication. This may be the greatest benefit of adopting digital technology; better communication means better dentist-technician relationships.
Other Trends in the Marketplace
In addition to digital technology, the future of dentistry will be influenced by changes in the demographics of dentists and changes in the population we treat. The following market factors may have a significant impact on the profession in the future:
Demographics of the dentist population:
In the last 25 years, there's been a 15% increase in the number of dental schools, 28% increase in dental school enrollment and 45% increase in average dental student debt. While the supply of dentists is growing, the reported demand for dental services is flat and dentists' income has declined in recent years. For example, since 2005, real income for GPs has not kept pace with inflation and has fallen by 16.2%. Income for dental specialists follows a similar trend, decreasing by 21% between 2007 and 2013. More efficient clinical procedures can recoup income by increasing margins.
Corporate dentistry:
At the same time, the prevalence of large group practices and DSOs is on the rise. In fact, they're now the highest growth channels in dentistry; the number of offices controlled by multi-location dental groups jumped 25% between 2007 and 2012 while single-location practices increased only 3.4% during the same timeframe. In addition to increasing access to care, DSOs potentially offer the profession an empowered and alternative voice; may facilitate the integration of dentistry and medicine; and can serve to calibrate large numbers of dentists to clinical, ethical and business standards.
However, there exist legitimate concerns regarding DSOs and the autonomy of their dentists: who will make treatment decisions, who will make purchasing decisions, who will be accountable for outcomes? More than likely, big data—such as data from insurers' or labs' remakes—and ethical leadership will direct evidence-based decisions based on quality outcomes. Otherwise, expanding dental groups will be primary targets of litigation or future regulatory oversight.
Patient demand:
Although demand for dental services has been relatively flat in recent years, the need for services is not going to disappear. For example, the global burden of periodontal disease, oral cancer and caries increased markedly—by 45.6%—from 1990 to 2010. In addition, only 60% of adults aged 18-64 visit a dentist annually, according to the ADA.
If the future brings expanded health insurance to adults—as programs like CHIP have done for children in the U.S.—increased demand and utilization of dental services may be predicted. Additionally, the mobility of the population means people are moving from rural to urban areas and from relatively impoverished to wealthy communities in our nation where the social value or equity of a healthy smile is high and may drive demand for dental services.
Those in need of dental care may not be effectively engaged by dentistry today. We must be aware of growing diversity in our population and use technology to engage the broadest sectors of our communities.
Source: Lyndon F. Cooper, DDS, PhD - LMT Magazine